Senior Vice President
Welcome to the Michigan State University Government Relations. Our primary role is to work with state, federal, and local policymakers and stakeholders to ensure funding and policy initiatives reflect the needs of the university. As one of the top 100 research universities in the world, is to connect MSU's world-class research and academic expertise with policymakers at all levels of government.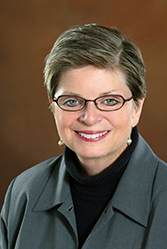 Kathleen M. Wilbur, Ph.D.
Senior Vice President for Government Relations
govrel@msu.edu
Assistant: Lori Dahlstrom (517) 353-9000
Kathleen Wilbur is MSU's senior vice president for government relations, previously serving as executive vice president for government, communications and advancement beginning in March 2018. She has also served on the MSU Board of Trustees and is the only woman to have directed three departments for the State of Michigan. More
In our nation's capital, Government Relations works to maintain critical research and financial aid funding as well as to ensure the federal commitment to the Facility for Rare Isotope Beams (FRIB) stays on schedule.
This is a time of change across Michigan, and we are changing as well. We hope you continue to visit our site for legislative and policy updates about MSU and to find ways you can engage in efforts to advance the university's commitment to providing quality education that prepares our students to succeed in a global economy.
We will continue to advocate for MSU at the federal, state, and local levels, creating avenues for policymakers to access MSU's expertise, enabling them to address the challenges affecting our state and nation.
Government Relations collaborates with the governor's office and legislative leaders as they work to build a sustainable economic future for Michigan. MSU is committed to increasing the vitality of Michigan and producing a vibrant quality of life for its residents. That includes working to ensure state appropriations for higher education allows MSU to create and sustain a diverse talent pool for the state's economy.
We also work with the governor and legislature to ensure that both MSU Extension and AgBioResearch are appropriately funded. Through research and partnerships with the state of Michigan and the agribusiness industry, such as Project GREEEN and the Ag Growth Initiative, MSU has contributed to the annual $91-billion economic impact of the state's food and agriculture industry.
Government Relations collaborates with local governments on many mid-Michigan issues that impact MSU and the surrounding community. These include municipal regionalism/consolidation, redevelopment of East Lansing's Amtrak station into a multi-modal transportation hub, as well as the redevelopment of the Michigan Avenue Corridor, a key entrance to the university.
We also are increasing our presence and involvement in southeast and West Michigan.
Government Relations serves as the convener and a connector, working across the university to leverage MSU's talent, research, technology, facilities, and services.
Our Southeast Michigan office serves as the university's primary liaison relative to government issues and activities fostering intentional and reciprocal interactions in which both the university and the communities are equal partners, sharing in the rewards and challenges of the partnership.
Government Relations leads the MI Spartan Impact and Spartan Advocate initiatives. In the immortal words of the late U.S. Speaker of the House Tip O'Neill, "All politics is local" a phrase, which encapsulates the principle that a politician's success is directly tied to his ability to understand and influence the issues of his constituents. And MSU's success is directly tied to Michigan's families and policymakers understanding the value of our programs in all 83 counties and even more critically, the value of an MSU degree.
For more information about MSU's involvement in your community and its economic impact across the state, including Congressional Districts, visit mispartanimpact.msu.edu.